Are you interested in starting and managing your own business?  Do you have some business ideas that you need to expand?  Would you like to learn about what it takes to run a business? If so, this workshop is for you!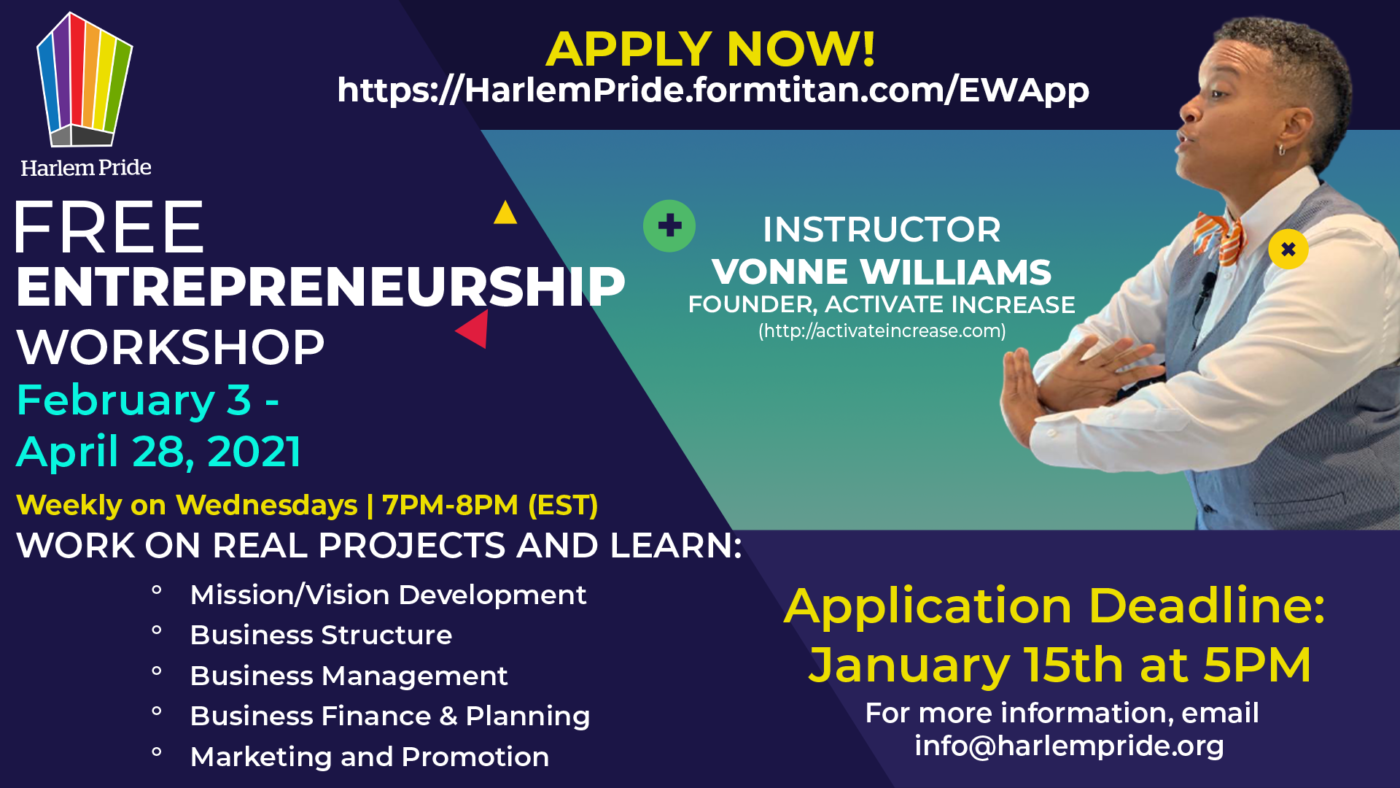 The Program includes the following elements:
DISC Assessment to help students determine personality traits and work style. (Factors such as, Dominance, Influence, Steadiness and Compliance predict your behavior towards others and the everyday things you do. https://www.discprofile.com/what-is-disc)
Real Projects – Students will work on a project that leads to the establishment of their businesses.
Mission/Vision Development – Students narrow their business ideas, creating solid missions and visions for the focus of their businesses. They will cultivate their own ideas towards, branding, web/social media, etc and receive guidance and resources in order to manifest their ideas.
Business Structure – Students learn about different business structures and determine what is best for their project.
Business Management – Students learn the tenants of being in business such as team building, staffing, financial management, including tips for independent contractors and free-lancers.
Business Finance & Planning: Financing options and strategic planning resources are explored.
Marketing and Promotion – Students will explore marketing and promotion strategies and options.
Upon Completion – Students receive a certificate and private Facebook Group Access for continued support.
---
INSTRUCTOR – Vonne Williams, owner of Activiate Increase (http://activateincrease.com/)
Vonne Williams is a native of Reidsville, North Carolina and received her Bachelor of Science Degree in Electronic Technology from Norfolk State University. Upon graduation, Vonne served her country for six years as a communications officer in the United States Army. At the end of her commitment, she moved to New York City to pursue a course of study in audio engineering and production at The Institute of Audio Research. She saw a need within the entertainment and professional sports industry where individuals were not using their income wisely and consequently were broke within two years' time, so she began to study accounting and financial planning. Vonne has been supporting clients in accounting, taxation, and financial advisement for the past eight years and specializes in small business and not-for-profit taxation. She also assists clients in financial planning and budgeting through seminars and conferences. Vonne takes pride in helping clients to maximize every financial opportunity available to them.  She spends her free time volunteering in her community. Vonne has a thriving tax practice in Harlem as well as being part of the Social Change Agents Institute.  While being a Change Agent, she travels to South Africa to collaborate with Entrepreneurs in Johannesburg, Mafeking and Cape Town.