Our History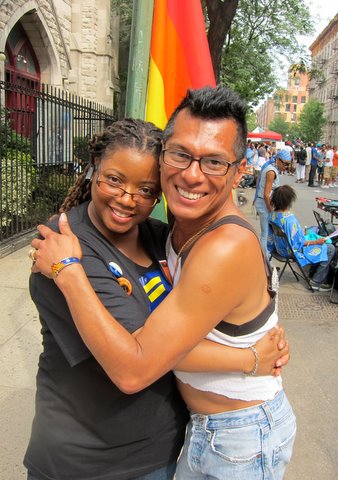 The co-founders of Harlem Pride are Lawrence Rodriguez and Carmen Neely. The original idea for what would later be called "Harlem Pride" was to organize a party that would promote the annual pride exhibit for Lawrence Rodriguez's Casa Frela Art Gallery.
From there, the idea spread as Carmen designed the original logo and began wearing a t-shirt with the design at a popular poetry night held at Billie's Black Restaurant and Lounge. The Harlem Pride logo is a symbolic representation of the Adam Clayton Powell State Office Building, the tallest building in Harlem.
As the idea of a Harlem Pride celebration began to spread, Carmen and Lawrence decided to expand the idea, especially after learning that there had never been a formal public celebration in Harlem. To help organize the Harlem Pride Celebration, Lawrence and Carmen invited Shirley Denise Chisolm, Adriane Ferguson, Michael E. Hodge, and John Reddick to be the founding board members. As it turned out, Lawrence was a member of his block association on West 119th Street. The block association had already applied for and received a block party permit for the last Saturday of June 2010 and agreed to partner with the board on sharing the block party permit.
The very first Harlem Pride Day Celebration was held on Saturday, June 26, 2010 on the block of W. 119th Street, between Lenox and Fifth Avenues. Thus, Harlem Pride is always held during the last full weekend in June. That inaugural event hosted approximately twenty vendors, over 2,500 attendees, numerous artists organized by Rob De Anthony of Our Youth, and several volunteers. New York State Senator Bill Perkins attended as well.
Since 2010, Harlem Pride has expanded to include community forums, workshops, networking events, and other community outreach activities.
Harlem Pride was incorporated in New York State as a Not-For-Profit Corporation in 2010, and received its retroactive 501(c)(3) tax exempt status from the Internal Revenue Service in 2011. Harlem Pride is a Registered Charity in New York State. All donations are Tax Deductible.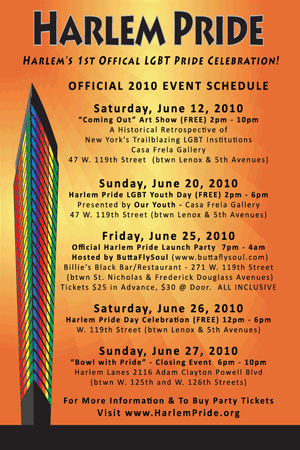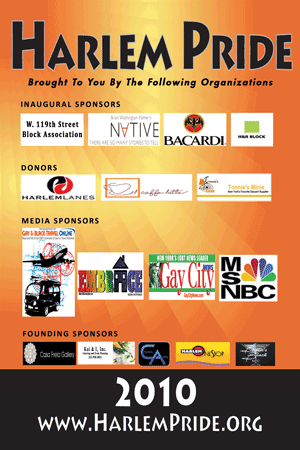 Original Harlem Pride 2010 Flyer (Front and Back)