Our theme for our Virtual Harlem Pride 2021 is STRONGER WITH PRIDE!
Our community continues to be resilient as we've had to press through our usual challenges along with those brought on by COVID-19, .  However, as a community, we've shown that our lives matter, that we can be civically engaged and be a catalyst for change in our government, and that through it all, we are Stronger With Pride.  As we move into our second virtual pride, Harlem Pride is happy to bring you enriching, engaging, and entertaining programming as we celebrate life, love, and PRIDE!
"GET MOVING" FITNESS CHALLENGE
Join Harlem Pride in partnership with Harlem Cycle, Harlem Run, and Three and a Half Acres Yoga for our Harlem Pride 2021 "Get Moving" Fitness Challenge!
June 1st – June 18th – Track all of your fitness activities [CLICK HERE TO REGISTER]
June 19th – Join us in Morning Side Park  12noon to 4pm for fun activities, free t-shirts and swag bags! [CLICK HERE TO REGISTER]

Take a virtual journey via our FREE MoveSpring App!

Participate in FREE virtual yoga classes with Three and a Half Acres Yoga

Take a FREE group ride with Harlem Cycle in Central Park on Sunday, June 6th @ 10AM

Join a FREE run for all levels with Harlem Run

MONDAY NIGHT RUN (#MonNgtRun) (Weekly)




Walk/Run/Run-Walk, 3-6 miles, meet at 7pm at Marcus Garvey Park, face masks are MANDATORY and there will be NO BAG CHECK.

THURSDAY #TRAINWITHHARLEMRUN (Weekly)




Speed workout, meet up at 7pm.  Location varies week-to-week, so be sure to check our social media channels for the exact location. Again face masks are MANDATORY and there will be NO BAG CHECK.

Twitter:

https://twitter.com/harlem_run

Instagram:

http://instagram.com/harlemrun

Facebook:

http://www.facebook.com/harlemrun

Track all of your activity via our FREE MoveSpring App
SPONSORED BY NATIONAL BLACK LEADERSHIP COMMISSION ON HEALTH AND GILEAD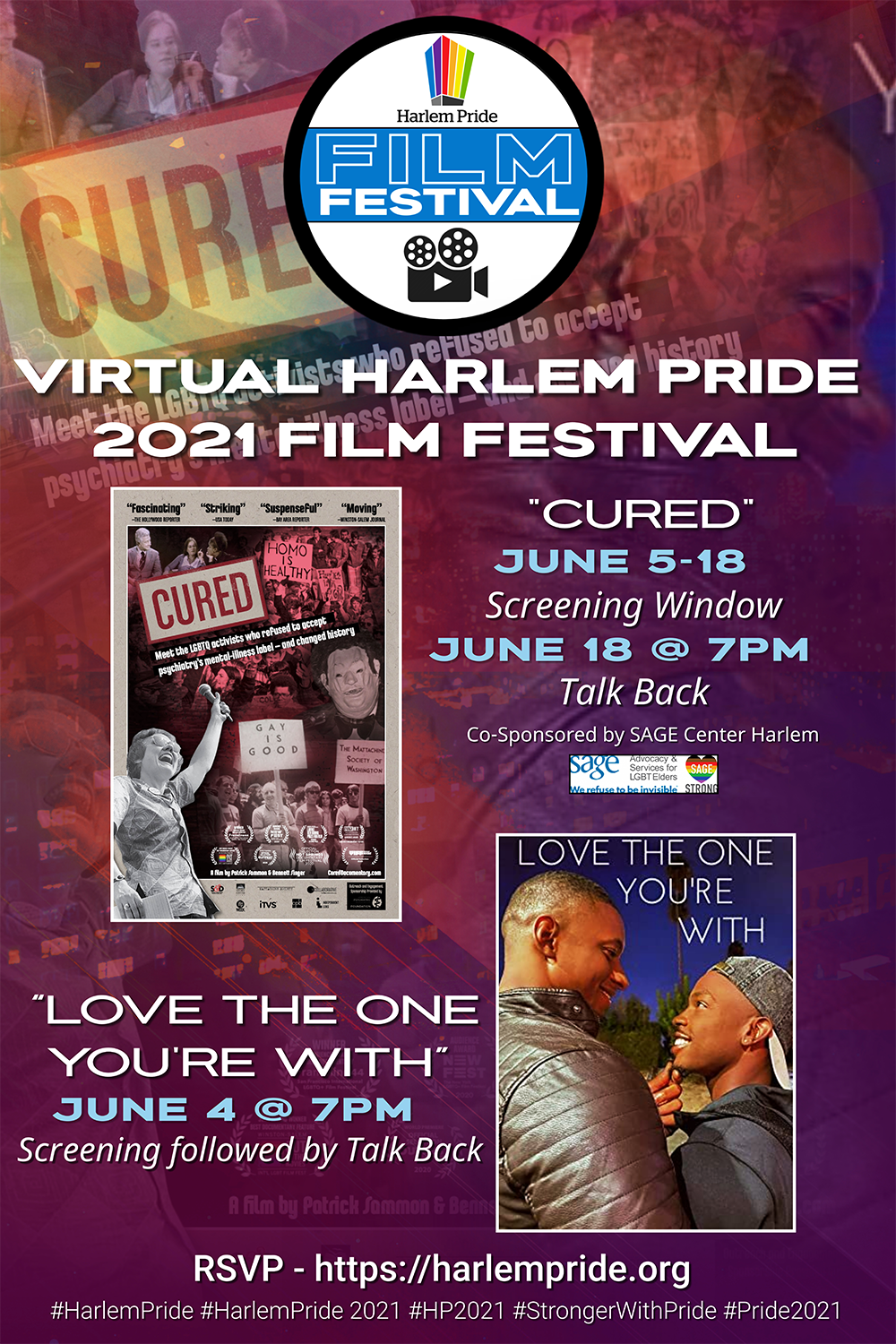 VIRTUAL FILM FESTIVAL
"CURED" – Screening Window – June 5th – 18th / Talk Back – Friday, June 18th @ 7PM [CLICK HERE TO REGISTER]
CURED illuminates a pivotal yet largely unknown chapter in the struggle for LGBTQ equality: the campaign that led the American Psychiatric Association (APA) to remove homosexuality from its manual of mental illnesses.
Co-Sponsored by SAGE Center Harlem

---
"LOVE THE ONE YOU'RE WITH" – Screening followed by Talk Back – Friday, June 4th @ 7:00 PM [CLICK HERE TO REGISTER]
LOVE THE ONE YOU'RE WITH (2021) is a dramatic comedy from award winning comedian and filmmaker Sampson McCormick that follows a couple, Miles and Avery as they navigate the possible ending of a long term relationship. The story offers surprise twists, lots of laughter and a mind stirring story line.
BALLROOM HAS SOMETHING TO SAY ABOUT BEING HUMAN, AND THE STRUGGLE FOR FREEDOM, IN THE FACE OF CATASTROPHE

Wednesday, June 9th @ 7PM
Part I: Between Two Pandemics: A Ballroom Protocol of Becoming, A Hegemony in Resistance Discourse, A Kairos Moment of Reckoning
Objectives:
1. Describe the history of the house and ballroom community
2. Describe the history of HIV organizing in NYC at the intersection of COVID-19 and anti-Blackness
3. Discuss lessons learned at the intersection 40th anniversary of HIV/AIDS and COVID-19
In Partnership with: CUNY SPH – Harlem Health Initiative
VIRTUAL HARLEM PRIDE 2021 CELEBRATION EVENT
Join us for our signature event featuring celebrity guest appearances, performing artists, and greetings from community leaders, health practitioners and elected officials.
Catch it right here on this page on June 26th @ 4PM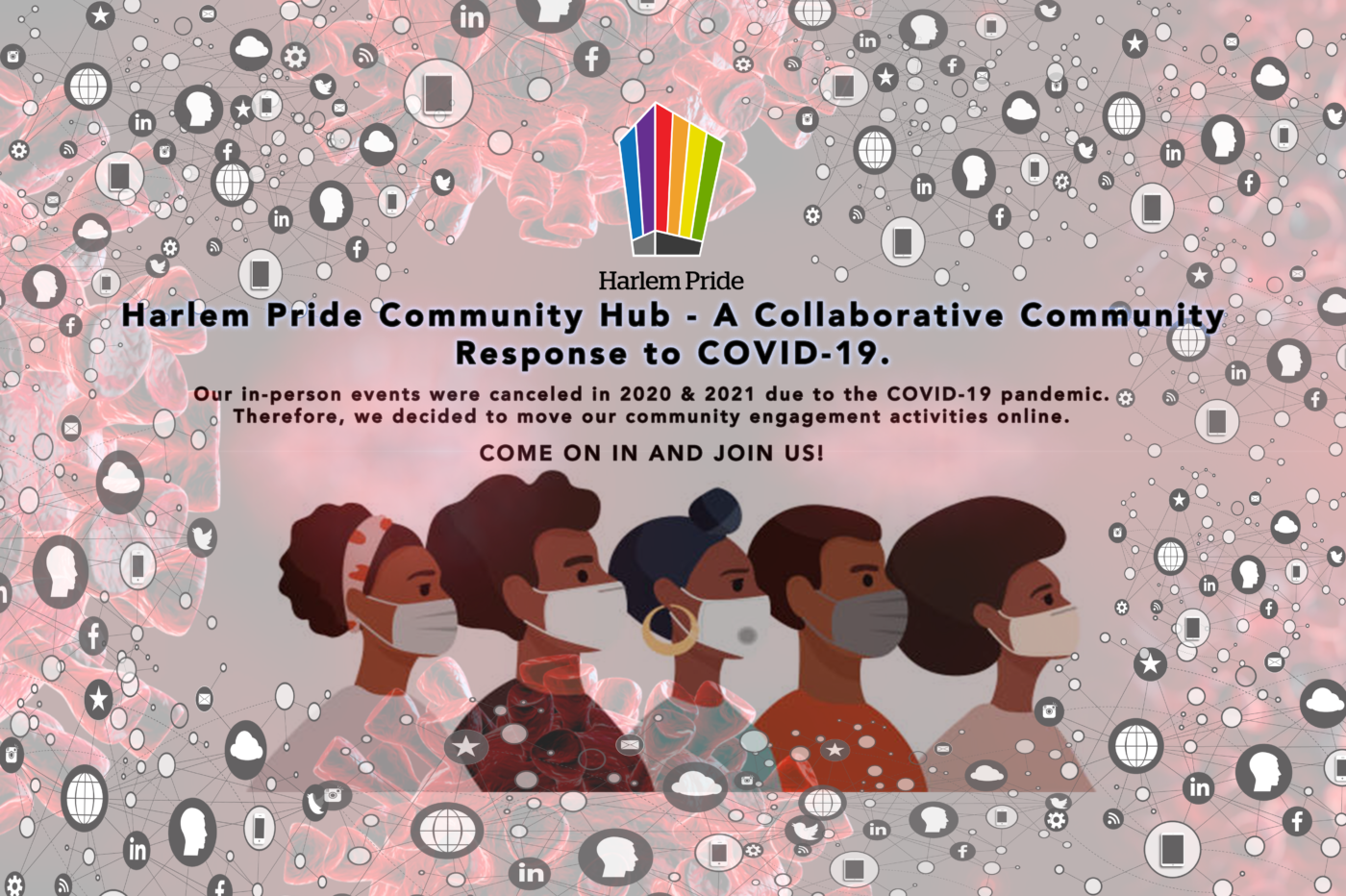 COMMUNITY HUB
Once again, our Harlem Pride 2021 Celebration Event will be virtual due to the COVID-19 pandemic, we have decided to maintain this community engagement activity online and via our virtual Community Hub. This hub provides vital up-to-date information about COVID-19 and other community concerns from vetted sources.
Visit the Community Hub: https://hub.harlempride.org/