Virtual Harlem Pride 2020 Sponsors

Our mission is to empower Harlem's SGL/LGBTQ community
(which includes, family, friends, and allies)
to improve its physical, mental, and economic health and wellness.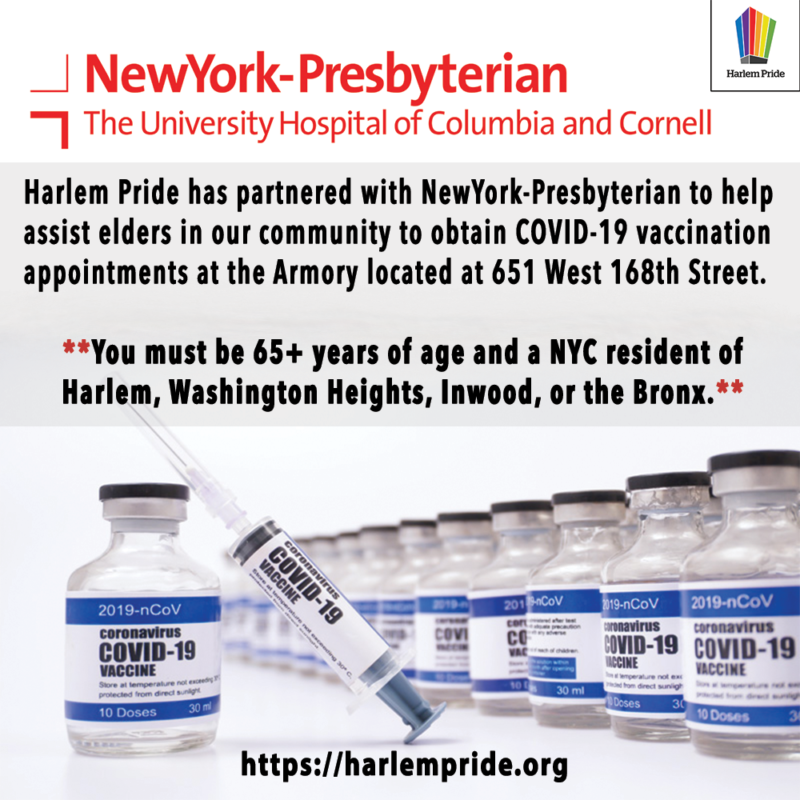 Vaccination Appointment Assistance via NewYork-Presbyterian
Harlem Pride has partnered with NewYork-Presbyterian to assist elders in our community to obtain COVID-19 vaccination appointments at the Armory located at 651 West 168th Street. Even though vaccine eligibility requirements have been expanded, we are focusing on community elders who are 65 + years of age and are NYC residents of Harlem, Washington Heights, Inwood, and the Bronx. Just fill out the form (see link) and we will work with NewYork-Presbyterian to secure your appointment.
***
You must be 65+ and you must be a New York City resident of Harlem, Washington Heights, Inwood, or the Bronx
.
***
ENTREPRENEURSHIP WORKSHOP
Are you interested in starting and managing your own business?  Do you have some business ideas that you need to expand?  Would you like to learn about what it takes to run a business? If so, this workshop is for you!
This workshop is being offered for Free, but you must apply. 
The application deadline is Friday, January 15, 2021 at 5PM.
CLICK HERE FOR MORE INFORMATION AND  TO APPLY: https://harlempride.org/entrepreneurshipws
ALL BLACK VOTES MATTER
ALL BLACK VOTES MATTER is a civic education and engagement initiative. This is a Get Out The Vote (GOTV) program directed toward the African-American community as a whole, intentionally inclusive of the African-American LGBTQ Community. We encourage all members of our community to register to vote, then vote in local, state and national elections, and help their family and friends do the same.
ALL BLACK VOTES MATTER is powered by Harlem Pride, Inc.
in partnership with National Black Leadership Commission on Health, Inc.