Local Business Sponsorship
Harlem Pride would like to offer you an opportunity to support Harlem Pride throughout the year through our Local Business Sponsorship.
As a Harlem Pride Local Business Sponsor you will show your support for Harlem Pride as a community organization. It also lets our 10,000+ Harlem Pride constituents, friends, family and allies know that your business is a safe and friendly place for them to patronize.
Your sponsorship contribution ($15/month or $150/year – 2 months FREE) will afford you these benefits:
Listing in the "Places To Visit" Section of our website
Opportunity to provide monthly Digital Coupons (see below)
Harlem Pride Poster for display during June for Harlem Pride Celebration Month
(May request up to 5 posters. The Official Harlem Pride Poster is 11 x 17 inches)
Window decal to advertise your participation in the Digital Coupon discount program
Digital Coupons
Included in your $15/month or $150/year (2 months FREE) Local Business Sponsorship is an opportunity to further attract our constituents, friends, family and allies to your business by providing digital coupons that can be presented for discounts of your choice at your establishment (see example below). Digital coupons can be printed or presented on a cell phone. You can add a barcode or QR code for tracking. This will increase your visibility and draw the massive spending power of Harlem's SGL/LGBT community. Our website will list establishments that provide discounts for our constituents who carry our Harlem Pride Membership Card. You can send us one coupon per month that will be posted to our email list and social media outlets.
Examples of suggested discounts:
___% off a purchase or item
Buy 1 ___, get 1 Free
1 Free ___ with every purchase of a specific item or amount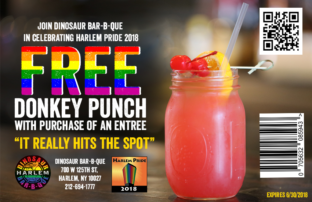 Digital Coupon Example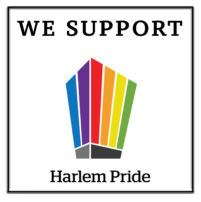 Window Decal
Yearly Online Registration and Payment
Monthly Online Registration and Payment
Download Printable Form and Mail Yearly Payment
For additional information, please contact Michael E. Hodge at mhodge@harlempride.org, or 347.846.0362, ext. 3.