Past Event
National Action Network LGBTQ POC Town Hall #1
Tuesday, September 10, 2019 · 6PM - 8PM
National Action Network House of Justice - 106 West 145th Street, New York, NY 10039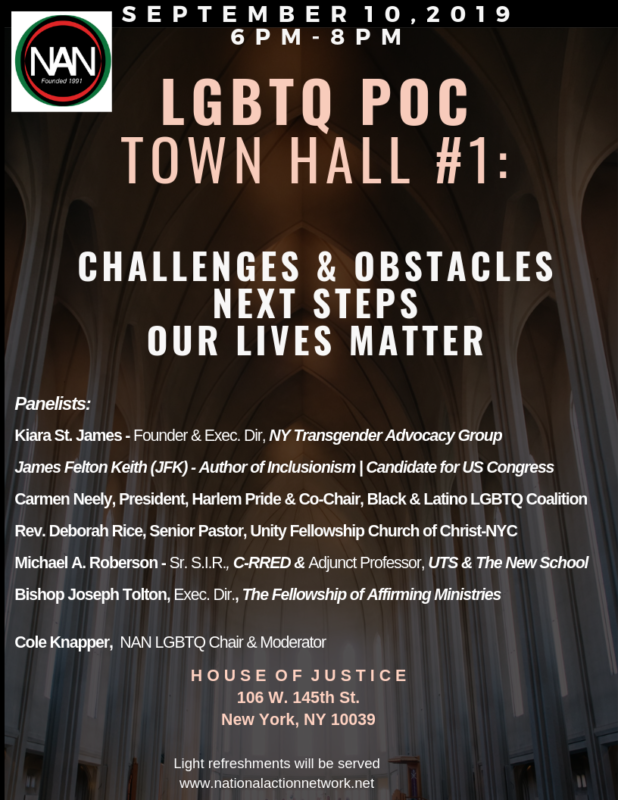 This is it. What you've been waiting for: Big, Bold, Revolutionary, Unapologetic ORGANIZING.
Because we are students of history. Because we know that things CAN get worse, and most definitely WILL get worse if we don't mobilize ourselves now.
The Revolution starts here. Of course it does. We hear the call of our LGBTQ Ancestors. Is is in our blood. The time is now. JOIN US!!
Guest Panelists:
1. Kiara St. James – Founder and Executive Director, NY Transgender Advocacy Group
2. Michael Roberson – Sr. S.I.R, C-RRED & Adjunct Professor, UTS & The New School
3. James Felton Keith (JFK) – Author of Inclusionism, Candidate for US Congress
4. Bishop Joseph Tolton – Executive Director, The Fellowship of Affirming Ministries
5. Carmen Neely – President, Harlem Pride & Co-Chair, Black and Latino LGBTQ Coalition
6. Rev. Deborah Rice – Senior Pastor, Unity Fellowship Church
This event is a Community Discussion about the specific issues and concerns of the LGBTQ POC community in NYC and across the country.
The goal is to establish a baseline for 21st Century, bold, audacious and game-changing activism!
WE ARE READY!! ARE YOU??
For more information: Cole Knapper kk2865@tc.columbia.edu