Harlem Pride 2019 Holiday Party
Wednesday, December 4, 2019 · 6PM - 8PM
Boxers Washington Heights, 3820 Broadway, New York, NY 10032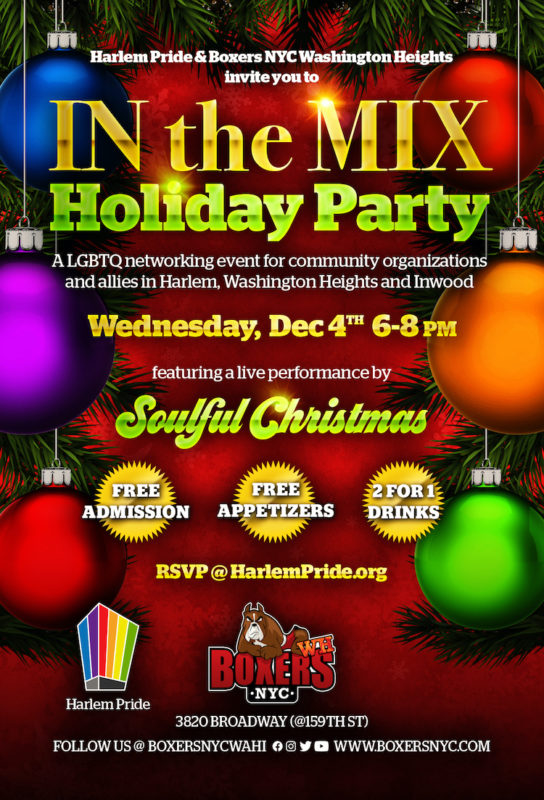 Join us for our Harlem Pride 2019 Holiday Party! It's a grand celebration and networking event for community organizations and allies in Harlem, Washington Heights, and Inwood. Enjoy Free Admission, Free Appetizers, and 2 for 1 Drinks!
We're also collecting donations for our neighbor, True Colors Residence, which houses formerly homeless young adults aged 18-24. TCR is New York's first and only permanent, supportive housing for lesbian, gay, bisexual and transgender youth with a history of homelessness. This profoundly underserved population is estimated to make up nearly 40% of homeless youth in New York City. Opened in September 2011, TCR provides young, formerly homeless LGBT individuals aged 18-24 upon admission, a safe, stable and supportive environment in which they can rebuild their lives. (http://truecolorsresidence.org)
PLEASE DONATE HOUSEHOLD GOODS: Dish Detergent, Laundry Detergent, Fabric Softner, Bleach, Lysol, Fantastic, Brooms, Dust Pans, Mops, Swifter, Paper Towels, Toilet Paper, and Facial Tissue.
CLICK HERE TO RSVP: https://harlempride.ticketbud.com/hp2019